Andreas Söderström & Rickard Jäverling – Adelsö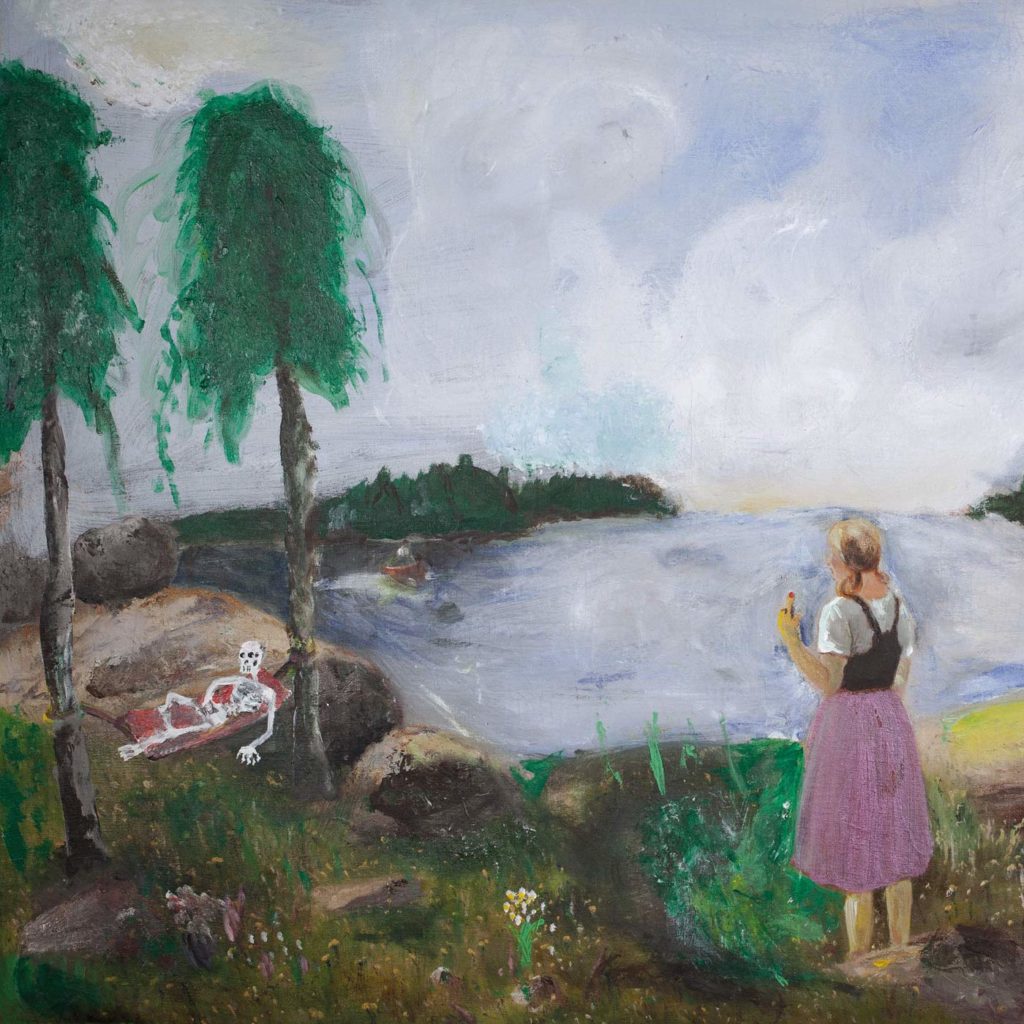 FFLP29 // ANDREAS SÖDERSTRÖM & RICKARD JÄVERLING – ADELSÖ

Two guitars and field recordings. Minimal in its approach but with hidden layers beneath the surface.

Cover and catering by Mats Qne Davidsson. Sleeve design and mastering by Henrik von Euler.
Release date: 2019-02-08
Format: LP, CD
The album was recorded by Christoffer Roth on the island of Adelsö in the middle of lake Mälaren. The water acts as both background noice and inspiration. Minimal and ambient sounding compositions with layers of natural depth. Daxophone, bass and vibraphone was added later in the studio in Årsta.
The release show for Adelsö took place at Restaurang Hjälmaren in Årsta, Stockholm. After the show Jäverling and Söderström donated the painting made for the album cover by Mats Qne Davidsson to the restaurant and you can now see it while you sit down to drink a "stor mellan". It hangs in the north east corner above a green sofa.


---
Tracklist:
//1. HOVGÅRDSFJÄRDEN
//2. NORRA UDDEN
//3. SJÖSTUGAN / BERRAS HUS
//4. KLOCKAN
//5. ADELSÖ
//6. IMPRO 2
//7. ADRIA 450

---
Media:
"Den svenska duon Andreas Söderström och Richard Jäverling rör sig i en lika tilltalande riktning mot skvalpande new age på sitt kommande album "Adelsö", med Mälaren istället för William Tylers Stilla havet som kuliss." Andres Lokko, SVD
"Norra udden is a long and beautiful moment of stillness, based on a duet from these talented Swedish performers." /Chillfiltr.com
"If calmness was a sound, it would definitely take the shape of Andreas Söderström & Rickard Jäverling's "Norra udden"." /Stereofox.com
"The simple repetitions and easy pacing in which this track ambles along at gives way to some darker instrumental flourishes but remains very much frozen in the amber of an eternal summer afternoon." Tometotheweathermachine.com
---
Links:
---
Bio:
Andreas Söderström and Rickard Jäverling are both big names in the scene for instrumental music in Sweden. Jäverling recently released a solo album on Höga Nord and he is also a part of Dödens Dal and Jäverling-von Euler. Söderström has released four albums as his alias ASS, Om Solen Väl Går Upp under his own name on Flora & Fauna and numerous more together with Johan Berthling (Fire Orchestra, Tape). He is also a part of the group Sjöarna.