Jäverling ◇ von Euler – Musik inspirerad av Kullahusets Hemlighet (Sten Eklund, 1971)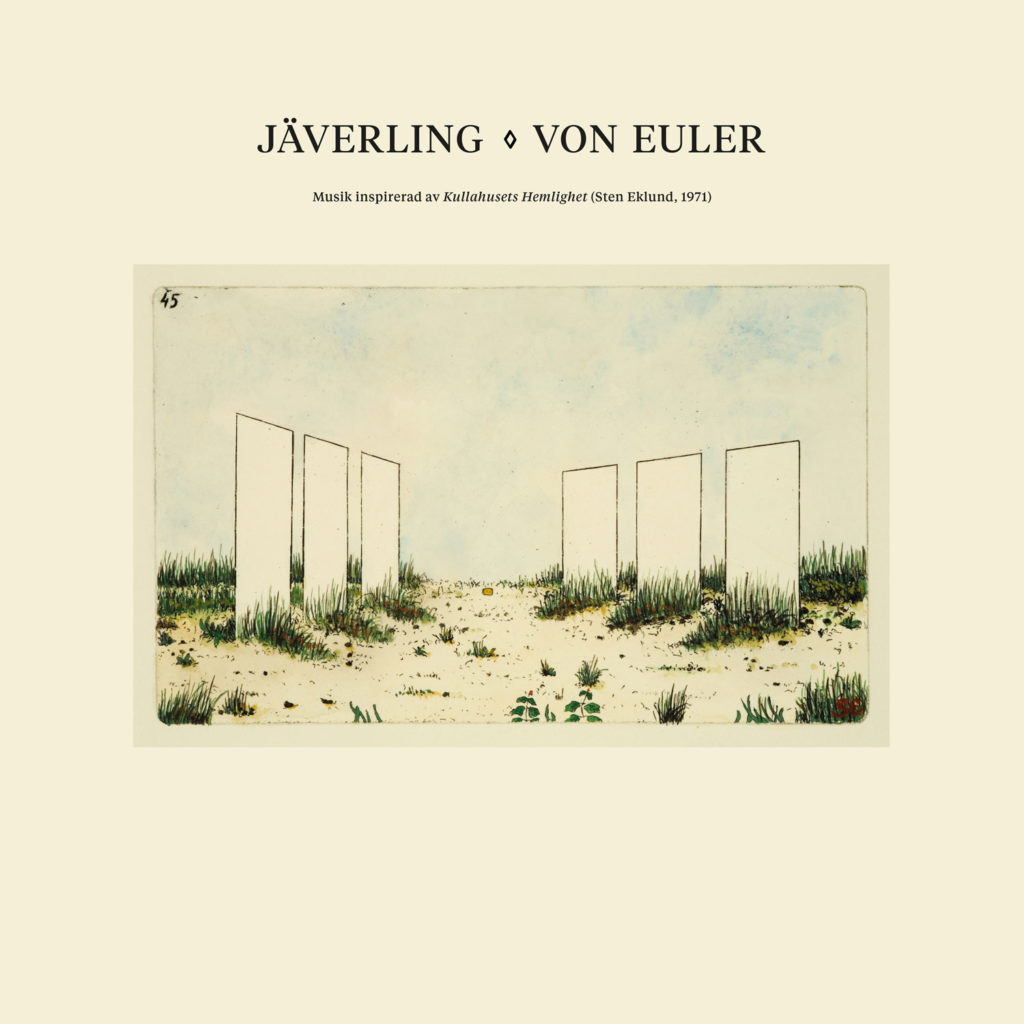 FFLP26 // JÄVERLING ◇ VON EULER – MUSIK INSPIRERAD AV KULLAHUSETS HEMLIGHET (STEN EKLUND, 1971)
Music made as a soundtrack to Sten Eklund's suite Kullahusets hemlighet. Rural electroacoustic ambient.

Art by Sten Eklund. Sleeve design by Frans Carlqvist. Mastered by Max-Måns Wikman
Release date: 2018-02-11
Format: LP
Recorded in Årsta and at Magnus Sveningsson's house in Österlen. The music was performed live for the first time at Uppsala Konstmuseum where Sten Eklund's art is kept. During the show the 53 pieces that make up Kullahusets hemlighet were shown to the public.
Rickard Jäverling and Henrik von Euler have previously made three albums together as Dödens Dal.


---
Tracklist:
//A1. Kullahuset
//A2. Översiktskarta över Kullahusområdet
//A3. Dagbrottet
//A4. Fröspridningsområde
//A5. Från Kullahusets inre
//B1. Kommunikationscentral
//B2. Höjdskillnader
//B3. Följder av den stigande temperaturen
//B4. Ett av husen
//B5. Stenarna på flyttblocket

---
Bio:
Kullahusets Hemlighet (complete title: "Ur Prof. J.M.G. Paléens efterlämnade skrifter: 1. Anteckningar rörande Kullahuset") is a piece of art consisting of 53 hand colored engravings, glass paintings and various other objects and texts by Sten Eklund (1942-2009). It was put on display for the first time in 1971 in Stockholm.
The piece tells the story about the fictitious botanic J.M.G. Paléen and his strange encounter with a secret area, surrounded by a magnetic force field, which held the remains of a strange civilisation (abandoned buildings, cultivations, mining equipment and futuristic technology to mention a few).
Paléen dedicates his time in the area to cataloging items, buildings, plants and technology plus mapping out the geographic and geological specifics. He also tries to make sense of the inherent nature of the area and its purpose but will in the end only come to question his own observations. When he later in life tries to return to the area he can't find it at all and the struggle to keep fantasy and facts apart becomes harder with every passing year.
---
Links: