Moder Jords Massiva – I Jorden
FFCD03 // MODER JORDS MASSIVA – I JORDEN
Second album from music collective Moder Jords Massiva. The second in a trilogy inspired by the elements. I jorden means in the ground and focuses on earth. Ur Djupen covers water and Från Luften revolves around air.
Mastered by Magnus Henriksson, Cover by Frans Carlqvist
Release date: 2003-02-10
Format: CD
Recorded and mixed at Krukmakargatan 26 in Södermalm, Stockholm on Otari 8-channel tape recorder. Produced and mixed by Henrik von Euler and Frans Carlqvist. Mastered by Existensminimum. In 2003 MJM played at Roskildefestivalen, a show that is featured in the video for Dina Dagar by David Giese.
---
---
Tracklist:
//1. I JORDEN
//2. SPEED OF LOVE
//3. SOUND & SENSE
//4. JAG SER MIG INTE OM
//5. FÖR ELLER EMOT
//6. DIRTY WEEKEND
//7. DINA DAGAR
//8. BLOOD
//9. RESPIRO
//10. SAFE TO HIDE
//11. SOUL CEASER
//12. UR DJUPEN

---
Videos:
---
Moder Jords Massiva members:
Frans Carlqvist / Pavan (production)
Erik Aalto / Sir Eric Beyond (vocals)
Andreas Franck (production)
Henrik von Euler / Fnojan (production and vocals)
Marcella Svensson (vocals)
Anna Maria Espinosa (vocals)
Gunnar Gustafsson / Tender G (vocals)
Pelle Lindroth (vocals)
Anna Adeniji (vocals)
Saemundir Grettisson / Nya Sampan (production)
Ludvig Rylander (saxophone)
Ulrik Janusson (trumpet)
Herman Arfwedsson / Munchensfinxen (bass)
Jakob Luttinger (bass)
Paola (vocals)
Bob Hansson (vocals)
Gibril Jobe (vocals)
Kalle Bäccman / Infinite K (production)
David Giese / Slummer (production)
Tobias Assiego / Format (vocals)
Phillipe Lassey (percussion)
Ramiro Gonzalez (vocals)
Maria Törnqvist (vocals)
Anders E. Rudström (vocals)
Bamidele Adeniji / Dele (vocals)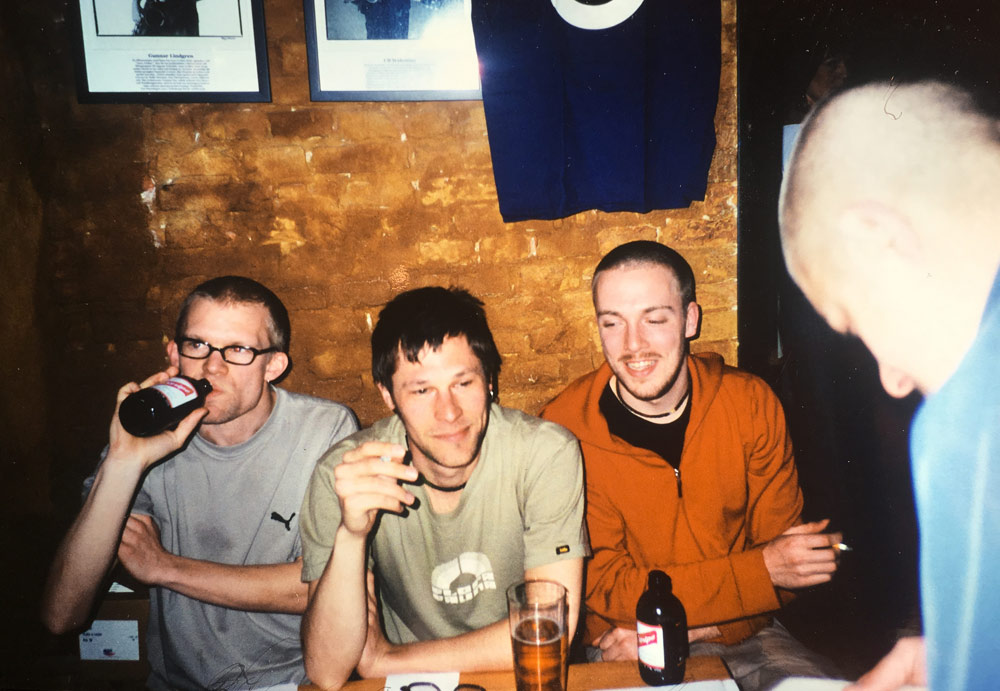 ---
Media:
"4/6 MJM är redan långt mer intressanta än de kollegor som belönas på nästan samtliga svenska prisgalor." Stefan Thungren om I Jorden, SVD
"Året har knappt kommit igång och det känns lite löjligt att redan nu utropa årets bästa svenska platta men jag misstänker att när 2003 ska summeras kommer den här att finnas med bland de som jag kommer att nämna bland de mest intressanta." R Bretzer, Arbetarbladet
4/5 Patrik Lindgren, GP
7/10 Patrik Hamberg, Dagensskiva.com
4/5 En särart i svenskt musikliv. Niclas Sahlström, Karlstad Newz
4/5 Björn Gylling, Ergo
"Ur Djupen" vald till årets svenska album i Sveriges Radios P2
"Det herligste, mest originale bandet jeg har sett på lenge!"
Aftenbladet, Stavanger 2002
"Moder Jords Massiva är ett av Sveriges absolut bästa liveband2
Gefle Dagblad 2002
"Ett av Sveriges absolut främsta liveband."
Upsala Nya tidning 2001
"En begåvad och lovande debut" (om "ur djupen")
Malmöguiden 2002
"Några enstaka housebeats insprängda men i övrigt väldigt influerat av jamaicamusik anno 1974. Musik som till och med Lee "Scratch" Perry hade lyft en aning på tingel-tangel-hatten för."
Falukuriren 2001
"Massivt gung på ZigZagscenen. De släppte inte greppet om svänget en enda minut… Oavsett vem det var som frontade gjorde de schyssta beatsen i bakgrunden att det var omöjligt att stå stilla."
Fyra plus på Storsjöyran 2001 av Östersundsposten.
"Inte som alla andra, en rytmisk folkfront." Aftonbladet 2000 inför Backstage, Kulturhuset
"Moder Jords nyckelord är experiment, förnyande och utveckling."
DN Kultur 2000
"Det är en märklig och mäktig live-upplevelse.", Situation Sthlm 2000
"Skönaste groovet på hela festivalen.",
Nya Wermlandstidningen om Arvikafestivalen -97
"Man vill omedelbart ge sig ut och jaga orginalskivorna.",
Nils Hansson i DN om Weissmuller Dub.
---
Other releases by MJM:
Moder Jords Massiva – Ur Djupen
Moder Jords Massiva – Från Luften
---
Links: